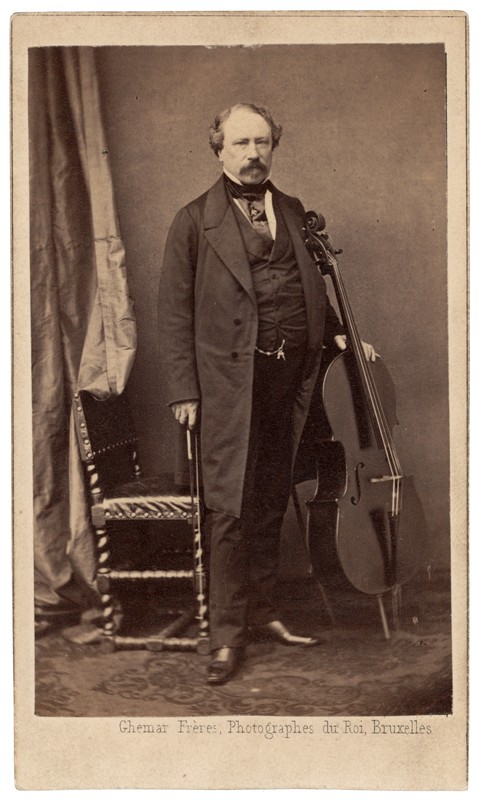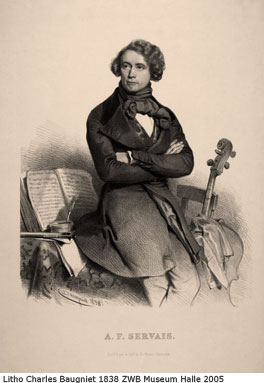 To a large extent, the huge number of compositions by Servais gives testimony to the state of cello technique at the beginning of his career.
Till the end of the eighteenth and the beginning of the nineteenth century the cello was mostly used as basso continuo. Nevertheless, great baroque composers like Bach, Vivaldi and Telemann used it as a solo instrument.
Later on, cellists like Luigi Boccherini (1743-1805) and Jean-Louis Duport (1749-1819) drew even more attention to the potential of the cello.
The technical innovations in the first half of the nineteenth century considerably extended the touch range of the cello and made playing the instrument much easier. Many cellists experimented with these innovations and soon arrived at finger arrangements that would have been unthinkable some decades earlier.
It was only with new compositions that the new style of cellists could show their virtuosity. That is why the cello virtuosos of that time often, if not exclusively, wrote to fill their own needs. The concept of cellist-composer is frequently used as a generic term for these innovating cellists who composed out of necessity. Obviously, in the course of the nineteenth century the cello repertoire was topped up by compositions by non-cellists, whether or not they implemented the technical development of the instrument.
Who were the leading cellist-composers in Servais' times? In the many circulating lists we invariably note the names of Bernhard Romberg (1767-1841), Friedrich Dotzauer (1783-1860), Friedrich Kummer (1797-1879), François Servais (1807-1866) and Auguste Franchomme (1808-1884), completed in the second half of the century by Alfredo Piatti (1822-1901), Georg Eduard Goltermann (1824-1879), Friedrich Grützmacher (1832-1903), Karl Davidov (1838-1889) and David Popper (1843-1913).
Because of their valuable contribution to the development of cello technique and to the 'emancipation' of the cello as a fully-fledged solo instrument, these ten cellist-composers count as the main cellists of the nineteenth century.
Servais holds his own in these top ten. Some specialists even go further, such as the Russian professor Ginsburg when he stated: "The two leading figures of the 19th century were Bernard Romberg and François Servais".
The cellist-composers also conformed to the taste of the public. People liked operas, so they brought the best-known opera melodies to salons and concert halls. They usually made the arrangements themselves. In this way, violinists like Niccoló Paganini and Henry Vieuxtemps, and pianists like Franz Liszt and Frédéric Chopin did not differ from the cello virtuosi. In addition, their oeuvre contained lots of fantasies, capriccios and concerti.
---